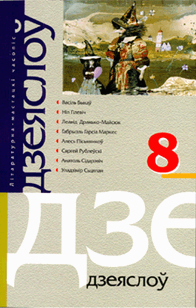 Summary
Each
DZIEJASŁOÚ
figuratively throws down the gauntlet to the today's situation in Belarus, with its economic and political instability. So, under the circumstances we have decided this year to pick up the numeration where we last left off, and this issue comes as number eight, though it is actually the first one in 2004. What we really adhere to and believe in is continuity in publishing the best of contemporary Belarusian literature and gradually expanding the circle of our contributors and readers.
This time
DZIEJASŁOÚ
opens with
The Light Is Still Shining
by the People's Poet of Belarus Nił Hilevič, who alongside traditional poetic forms offers you some of his tankas. Let us draw your attention to new poems
Sleepless Is My Insomnia
by Aleś Piśmiankoú,
Between Lightning and Thunder
by Ludka Silnova,
Where the Spring Begins
by Uładzimir Mazho and
There Are Neither the Weak Nor the Strong
by Jury Čarnikievič.
As for the
Prose
, this issue mainly focuses on middle-aged and younger writers. You will find here
The OAP
by Leanid Drańko-Majsiuk,
The Dead End, or the Life Circle of a Learned Agriculturist
by Siarhiej Urubleúski and two novellas by Uładzimir Ściapan, entitled
The Other Side of the Night
and
The Nameless River
. Besides, we are glad to present writers who have just embarked on a career in literature, that is, Taciana Łaúryk with her novella
In the Lord's Dream
and Vadzim Bołbas with
Season Reminiscences
.
There are two absorbing discoveries awaiting you in our traditional
Debut
section. They are
The Bridges Are Burning
by Vinceś Klimus, a young poet studying at college in Bieraście, and
A Mid-October Calendar
by Teda Lee (this is a pseudonym used by a first-year student of the Belarusian State University, Department of Journalism).
The
Translations
section has in stock poems by two French avant-garde poets René Daumal and Jacques Jouet, whose
Poetry in Black and White
and
Underground Poems
have been translated by Źmicier Sierabrakoú and Juraś Barysievič, respectively. In addition, you are bound to be fascinated by Gabriel Garcia Marquez'
Ghosts of Memory
from
Twelve Weird Stories.
These are rendered into Belarusian by Valery Bujvał.
140 years ago, in 1864, one of the leaders of the 1863 uprising Kastuś Kalinoúski was executed. To commemorate the great Belarusian national activist, Aleś Pietraškievič brings forth his historical tragedy
The Knight of Freedom.
The
Archives
section publishes Vasil Bykaú's diary notes of different years. They are entitled
Life's Paradoxes
and illustrated with the author's own drawings. So this is the first time the readers have had an opportunity to get a glimpse of the world-famous writer's artistic legacy.
The
Literary Criticism
,
Essays
and
Art
sections have a lot of interesting contributions. Thus, Anatol Sidarevič in
A Chronicle of Spine-Breaking Time
casts light onto the life of prominent Belarusian social democrat Anton Łuckievič in the 1920s–30s. Meanwhile, Michaś Mušynski in
The Testament to Serve the Motherland
features Maksim and Haúryła Hareckis and all their family, who worked hard towards a brighter future for Belarus. Uładzimir Zamkaviec's article
In the Grip of Totalitarianism
centres on Belarusian émigré prose, whereas Viktar Chursik's contribution
Capital Punishment
is a life-story of a Belarusian, who worked as a cabman for Alexandre Pushkin's daughter and perished during Stalin's repression. In his essay
A Starry Context for Pahonia
Piotra Vasileúski comes up with his concept of heraldry in general and state coats of arms in particular. And Halina Bahdanava in
The Key to Get Through the Looking Glass
gives you an insight into the legacy of Mikoła Sielaščuk, the artist who met his tragic death several years ago in Italy.
And finally, Iryna Šaúlakova in her
Intertext
column analyses what is new in Belarusian literature (see
A Modest Resistance Day in the Pause Reservation
).