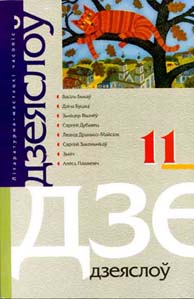 Summary
We hope our readers will be happy to find in
DZIEJASŁOU
several writings by the world-famous classic of Belarusian literature Vasil Bykaú. His parables
Black Power
and
A Bunch of Roses
as well as the pamphlet
Hush-Hush, No Fuss
have never been published before. In addition there is a contribution commemorating Vasil Bykaú: Siarhiej Dubaviec in
The Dead End
argues that the writer was unsurpassable in revealing Belarusian mentality.
The
Poetry
section presents several poems by Vasil Bykaú's younger friend and
PO
ŁYMIA
ex-editor-in-chief Siarhiej Zakońnikaú. They are given under the heading
In the Light of Your Eyes
. You will also see here some new series of poems, such as
Behind the Wall
by Źnič,
Mark Zero
by Aleś Kasko,
Along the Bricks
by Juraś Paciupa and
Short Poems
by Novosibirsk-based Alaksiej Musoryn. And we have two debutantes in this issue: prose-writer Pavał Śviardłoú, whose three novellas are published under the title
Look Around
, and Hanna Yackievič, a young poet, who offers you a series of poems
To Live!
Apart from Vasil Bykaú's works, the
Prose
section includes the first part of a biographical novel
The Circle
by Aleś Paškievič. It features the life of poet Uładzimir Duboúka, who was repressed in the 1930s and spent over 20 years in Stalins' Gulag. Besides, Vinceś Mudroú comes up with his two satirical grotesques,
The Patrician
and
My Eternal Land
, Źmicier Višnioú unexpectedly enough dresses his thoughts with some wind mayonnaise and serves them as
A Salad for a Gourmet
, whereas Mikoła Hil goes in for childhood memories:
How I Learned to Ride a Bike
.
In the
Translations
section
DZIEJASŁOU
has three novellas by the renowned Dino Buzzati,
Tender Is the Night
,
Ibi
and
The Creation
rendered into Belarusian by Aksana Danilčyk.
The
Theatre
section contains
The ToyShop
, a fairy tale for grown-ups and kids by Leanid Drańko-Majsiuk. This time the well-established author, whose verse and prose have been published in
DZIEJASŁOÚ
, tries his hand at drama.
The
Literary Criticism
and
Social Writing
sections have a lot of both unexpected and long-expected contributions. These are in the first place the second part of
The Great Treachery
by Valancin Akudovič and Juraś Barysievič's philosophical meditations on creativity and creative people
To Be and to Look.
In this issue we also start publishing
The Contested Lithuanian-Belarusian Fatherland
by Timothy Snyder. Apparently the title speaks for itself: the American historian attempts to present an objective vision of nation-building processes on the territory of the Grand Duchy of Lithuania. Meanwhile, Palina Kačatkova studies some little-known episodes in Maksim Bahdanovič's life, for instance, what brought forth his widely discussed 'erotic diary' (see her travel notes from the Crimea
Shadows
). Finally Piotra Vasileúski covers the work of Zair Azhur, the eminent sculptor, who cast over a hundred monuments to Lenin alone…
In the
Intertext
Iryna Šaúlakova briefly reviews new books by Aleś Badak, Jeva Lavonava, Viktar Šnip and Kastuś Ćvirka, as well as the book by young writers
12+1
(see
Pro Patria
).