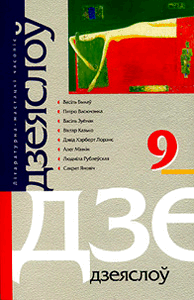 Summary
In June 2004 the world-famous classic of Belarusian literature Vasil Bykaú would turn 80. He has left a vast heritage, his archives containing a lot of works that were not published during his lifetime.
DZIEJASŁOÚ
possesses exclusive copyright for them and intends to go on publishing various works by Vasil Bykaú up to his jubilee.
So the 9
th
issue opens with a short story
A Bottle or the President on a Tree
, which Vasil Bykaú wrote at the turn of the 20th century. However, it could not be published at the time, says Siarhiej Zakońnikaú, ex-editor-in-chief of
POŁYMIA
in his conclusive remarks. There are some other contributions commemorating Vasil Bykaú in this issue. Thus, Viktar Kaźko, the State Prize winner, shares his memories of the renowned writer. You will also find here Vasil Bykaú's letters to Łarysa Hienijuš, prominent poet and Belarusian activist. Written in the 1960s, they help us see Vasil Bykaú in a different light.
Our
Prose
and
Poetry
sections offer you a versatile collection of both well-established authors and beginners in literature. So you can read the first part of Ludmiła Rubleúskaja's parallel novel
The Gold of Forgotten Graves
. Following the best traditions of Uładzimir Karatkievič, the author brings together the events of the present day and the 19
th
century in a thrilling detective. Meanwhile, the State Prize winner Janka Sipakoú goes
Hunting a Bear with a Spear
and Franc Siúko describes the plight of
The Insurgent
in their short stories. As for the younger generation, Anatol Ivaščanka and Chryścina Kurčankova come up with their experimental writings,
The Rain-flute
and
So Spoke the Dragon to the Princess
. Besides, Usievaład Ścieburaka is making his literary debut with
To Find Your Day
.
The
Poetry
section opens with
The Rye Memory
by the State Prize winner Vasil Zujonak. You can also find here
The Soul Is Flying
by Aleh Minkin,
A Solitary Sun and the Motherland
by Viktar Šnip,
The Tree-Candle Chandelier
by Ryhor Sitnica,
In the Ultravio­let Regime
by Harodnia-based Jury Humianiuk and
Follow Me
by Ludmiła Kiebič, who comes from Harodnia, too. By some coincidence, our debutante in poetry Dzianis Hołubieú, a college student, who declares
I Am Setting Love Free
is from Harodnia just as well.
The
Translations
section this time consists of a short story
The Lovely Lady
by D.H.Lawrence, translated from English by V.K. and
Bead after Bead
by Czech poet Irži Kolarž, rendered into Belarusian by Maryja Martysievič.
This time the
Essays and Literary Criticism
section can create a real sensation with
A Conversation between Churchwarden Janka and Jaśka, a Farmer from Vilnia District
. In this contribution Aleh Łatyšonak from Biełastok, Poland centres on
Stories in the Belarusian Vernacular
, published in 1863. The first-ever textbook for Belarusian schoolchildren has been hushed up until now.
DZIEJASŁOÚ
publishes its complete text in the original script, which is bound to be of great interest not only for the general public, but also for scholars. Besides, in his essay
There Is No Development without the Awareness of the Fatherland
Sakrat Janovič ponders over national problems in the present-day Belarus. Critic Piatro Vasiučenka in
Piatroglyphs and Philologems
gives an appreciation of the world literary heritage from the Belarusian perspective. Meanwhile German art critic Franz Sales Grill analyses Ryhor Sitnica's works in
The Artist of Magical Realism,
whereas Źmicier Sierabrakoú in
The Autumn of the Perfor­mance
discusses the prospects of the given artistic genre in Belarus. In addition, Anatol Mialhuj interviews a well-known collector and head of the
Spadčyna
cultural and educational club Anatol Bieły. He has recently opened the first private museum of visual arts in the town of Staryja Darohi (see
We Will Not Have Another Motherland
).
And finally, young critic Alesia Siúčykava in
Step by Step…Towards Self-identification
offers her evaluation of new books in her father's library, thus making yet another debut in
DZIEJASŁOÚ
..